Conference Facilites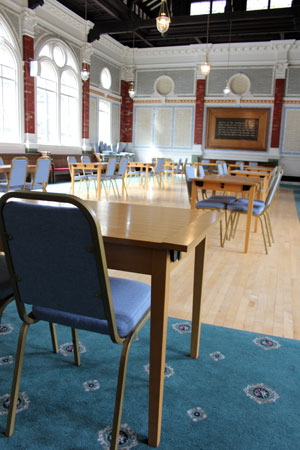 Channing Hall is a great space for conferences and meetings of up to 120 people. Located in the heart of Sheffield city centre, it has a separate entrance on Surrey Street, and looks across to the side of the Town Hall. Surrey Street is the main walking route from the city centre to the Cultural Quarter and the railway station.
The room boasts a Denon sound system with 4 large speakers, a separate microphone socket at the top end of the hall and a wireless microphone Also available for hire: 8x6 screen, a NEC M362X projector, 4 desk top microphones, mixer and a new 5 metre x 3 metre raised stage area which can be altered to different sizes if required. Free Wi-fi access is also available, perfect for media intensive meetings and conferences.There is also a lift from the ground floor, and the tables and chairs can be arranged as required.
We have a newly reburbished mordern Meeting room/Conference room for hire on the 2nd floor which can also be booked as a 'break out' room for up to 20 people.
There is also access to a well equipped kitchen on the 2nd floor of the Hollis Building with professional standard equipment for use with corporate hire of Channing Hall.